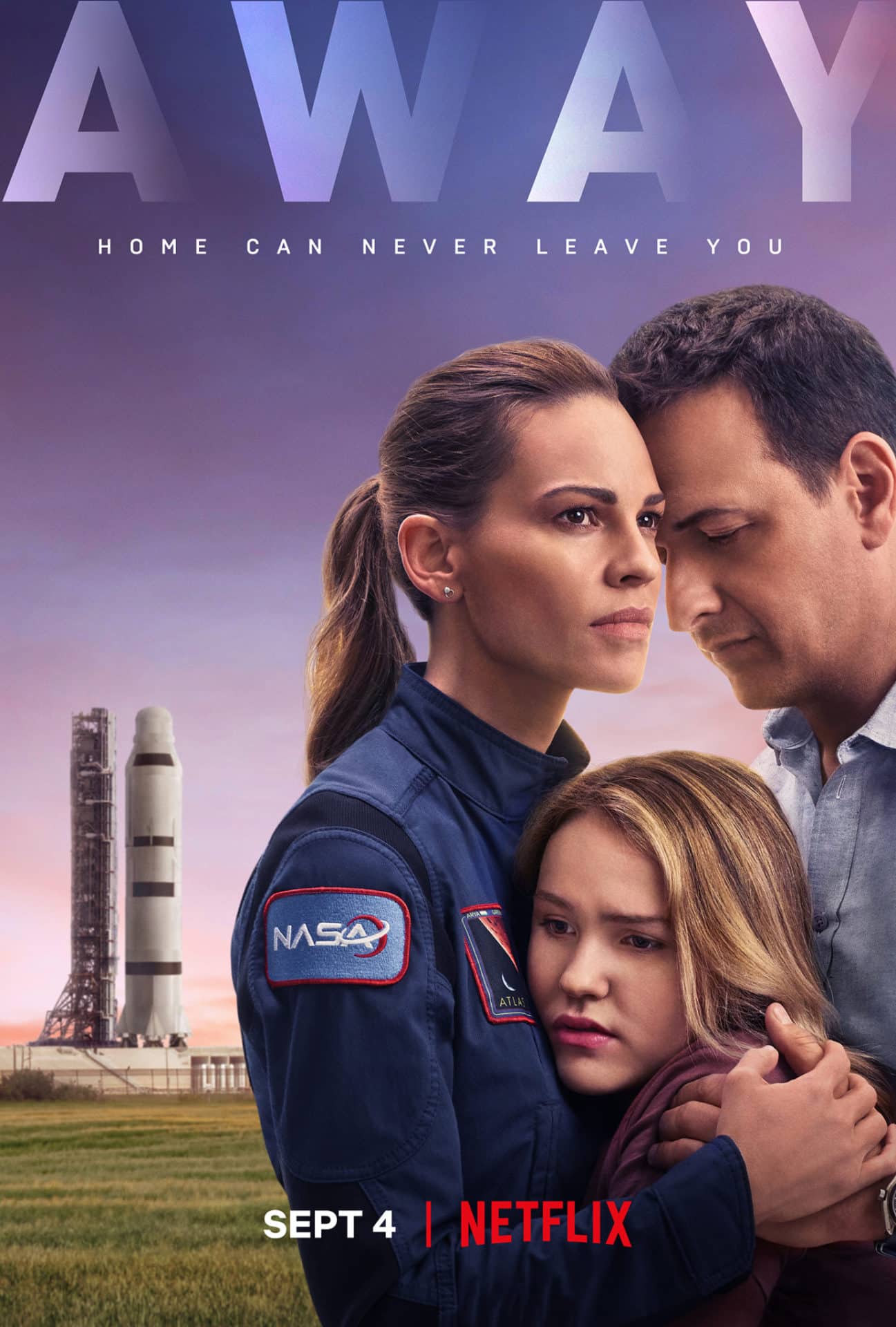 I developed a rating system for my TV and movie reviews ranging all the way from "worthless" up to "must-see" with varying degrees of recommendation in between. For once I find myself completely torn as to what rating idea new Netflix sci-fi series "Away". In some ways it deserves most of these ends of my scale. It deserves my worst rating of "worthless" as well as my best rating of "must-see". If Charles Dickens was writing this review he would say "It was the best of shows. It was the worst of shows."
Hilary Swank leads an international cast as astronaut Emma Green as the commander of the first mission to Mars. I could ask "Do we really need another 'First mission to Mars' TV series?" Considering that in 2018 we had the Hulu series "The First" starring Sean Penn and 2 seasons of a National Geographic series "Mars" it seems like this has been done before. However both of those series suffered from problems that I won't go into here. So I was anxious to see how Netflix handled the topic.
In the first 10 to 15 minutes of the first episode I knew we were in trouble. The story was revealed in a strange series of flashbacks (or was it flash forwards? At first we couldn't tell which) about some sort of accident on board the Atlas spacecraft. The confusing storytelling eventually evened out but the scientific errors piled on one after the other. I'm not talking about the nitpicky kinds of things that Neil deGrasse Tyson tweets about. I'm talking about really stupid plot holes and really bad science that even a non-sci-fi fan would spot in an instant.
At this point I should probably issue a spoiler warning because I'm going to talk about plot.
In the opening episode we finally sort out the fact that the accident scenes were a flashback of an incident that happened on the journey from Earth to the moon which was the first step on the Mars journey. The fact that they stopped off at the moon before proceeding to Mars was probably the only scientifically accurate part of the entire story. When we finally do go to Mars we will probably launch from the moon or perhaps lunar orbit. There are scenes where investigators are interviewing the five member crew about the incident and we get a Rashomon-like series of explanations in which everyone saw the same event differently.
During these interviews we find out there is great dissension among the five-member crew and a great deal of distrust of Hilary Swank's ability to command the mission. They say that the crew has been training together for 2 years and you would've thought that if there was that much distrust of the commander it would've been uncovered before now and dealt with either by replacing her or other crewmembers. It's just totally not credible that such a dysfunctional group would be picked for such an important mission.
Much of the story centers on Swank's character Emma Green who leaves behind a husband Matt and 15-year-old daughter Alexis for this three-year mission to Mars. The husband is played by Josh Charles who is most remembered for his role as Will Gardner in "The Good Wife". Matt is a former astronaut who was grounded for medical reasons. He has a hereditary disease that makes him prone to a stroke. He serves as a chief engineer for the mission in mission control and knows everything about the spacecraft inside out. Suddenly just before departure from the moon to Mars he suffers a massive stroke. Now Commander Green has to decide if she should drop out of the mission to deal with her family or to go on and fulfill her own dreams. Ultimately with support from Matt and her daughter she proceeds with the mission. We have to wonder if she would be given such a choice in a real-life circumstance. Of course this only further aggravates the crew's doubts as to whether or not she can stay focused as an effective leader.
Shortly after departure from the moon (with some really bad special-effects on the rocket plume) one of their three solar panels fails to unfold completely. If they can't get the solar panel fixed they will all die in route to Mars. This is another in a long list of things that just wouldn't happen on a real mission. You don't design a spaceship with no backup or no redundancy. If you had three solar panels you would have design things so that you can complete the mission with just two panels. If you really needed three you would have put four of them on the spacecraft. They didn't even take the time to explain away this decision citing budget cuts or any of the other usual cliché reasons why your vehicle fails whether it's the Titanic or a rocket to Mars. Later in the series their water recycling equipment breaks down and this time they do have a backup. But the backup is insufficient to do the job. Why the hell would you bother to put in a backup that couldn't do it? A critical system like this on a real spacecraft would be fully redundant. It was just insane. All of this takes my dreaded "plot driven technology" to an extreme I've never seen in any movie or TV show before.
Some of the ridiculous plot holes and bad science don't require you to be knowledgeable to spot. The center core of the ship remains in zero gravity but the crew quarters are at the end of 2 long rotating arms which generate artificial gravity and thus saving lots of money on special-effects. One of the minor plot points was that the Russian astronaut had a hobby of building puppets and performing puppet shows for his grandchildren. At one point in the story they are about to be so distant from Earth that videoconferencing is impossible so he wants to put on one last puppet show for the grandkids. The puppets he uses are marionettes hanging from strings. But he performs the puppet show in the zero gravity part of the spacecraft! How do you hang and manipulate a puppet on a string when there is no gravity. At the end of the puppet show he releases the strings that allows the puppets to float free. It's just insane.
Speaking of the communication with Earth issues, when you are at the moon it takes approximately 1.5 seconds for a radio transmission to reach the moon. If you answer instantly, the other person doesn't receive the reply until another 1.5 seconds. There should be an annoying three second delay in any live conversation. But by some miracle they seem to be able to communicate instantly as if you were phoning someone next-door. This instantaneous communication is a standard violation of physics that many sci-fi movies and TV shows tend to do. Most notably in the 2017 teen romance "The Space between Us" in which a boy from Mars falls in love with a girl on earth and they are able to communicate instantaneously despite the distance. So I'm thinking they're going to abandon that particular bit of physics for the sake of storytelling. But no… They get about halfway to Mars and suddenly there is a communications delay of 20 minutes. It just happens all of a sudden. We've got to get our last instantaneous video messages back to our loved ones on earth before the distance gets too great. From that point forward they limit everything to text messages, emails, and audio attachments to emails. You can't just ignore physics for half of the movie and then turn it back on again when it's more convenient to create tension in the story.
So if this series is such a scientific nightmare, why did I watch all 10 episodes in one day? It's because the characters are absolutely amazing. You really get to know each character in various episodes where we get their entire back story from their childhood up until the start of the mission. The drama is real and not nearly as contrived as the science. The acting of the entire cast is absolutely phenomenal. You expect good things out of people like Swank and Charles but the other characters in the international crew who are not known to me from other work turn in great performances and have really compelling, emotional character arcs throughout the series. Of special note is the performance by Talitha Eliana Bateman who was unknown to me but has appeared in a number of films and TV series. I was very impressed with her.
I could've written pages and pages about ridiculous plot holes not even including more pages of ridiculous scientific errors. But as a human story about compelling characters told in engaging and emotional ways this is an absolutely amazing miniseries I could highly recommend.
I feel so disappointed that that much effort went into creating such interesting characters and a heartfelt compelling back stories performed so beautifully yet so little effort was put into creating a credible plot and even a marginally accurate bit of sci-fi.
Why can't we have both? Why can't we have self-consistent plots and good science along with compelling drama? It's such a shame.
The Apple TV+ alternate history sci-fi series "For All Mankind" did a pretty good job in its opening season but nobody watches Apple TV+ unless they got it free when buying an iPhone or iPad like I did. And unfortunately the trailer for season 2 already shows some bad science.
So I'm giving this series a dual rating. If you want well written, deep, well acted characters that will pull at your heartstrings and keep you wanting more then this gets a very strong rating of "Must-See". But if you insist on a reasonably well-crafted plot with any degree of scientific accuracy then I also have to give it a very strong rating of "Worthless".
When I watched it yesterday, Netflix said it was trending #2 in the US. Today it just says "Top 10". The ending left the door open for another season. I don't know whether I should wish for one or not.